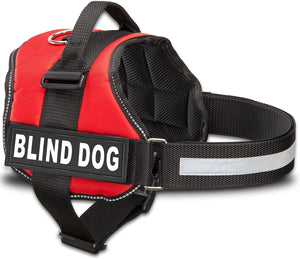 Thoughtfully designed with convenience and quality in mind, your Industrial Puppy Blind Dog vest was crafted for safety, durability and comfortable functionality to make life easier for you and your dog.

Be at ease in public and limit distractions from dog-loving strangers. With your Industrial Puppy Blind Dog Vest, everyone will instantly recognize your dog's status, allowing you and your dog the space and respect you both deserve.

On top of safety, we designed our Blind Dog Vests to be feature-rich and as convenient as possible for both you and your dog. You can finally have everything you need in just one vest as each one comes equipped with removable patches to communicate different occasions, comfortable mesh lining and double-stitched nylon for durability, and an attached handle and "D" ring to pair with any leash.
Made from the strongest materials on the market. No more frayed seams or accessories that won't hold - great for large and small breeds


Removable patches mean you need only 1 lightweight, certified harness for everything from grocery shopping to doctor visits - suitable for all breeds such as Poodles, German Shepherds, etc


The only premium animal vests that accommodate saddle bags & backpacks (sold separately), supplying pockets for food, bowls, medications, or extra supplies while still maintaining comfort


The easy-to-use belly buckle makes suiting up fast — Convenient apparel for on-the-go service, therapy, in training, and emotional support K9 of any breed



A sturdy & durable top-mounted handle gives you total tactical control over your dog and harness when faced with an emergency situation