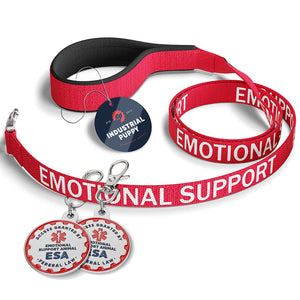 Designed for Emotional Support dogs, these striking Emotional Support Dog Tags and Emotional Support Leash show the entire world that your pet is a true support animal. 
Command Respect and Recognition Wherever You and Your Emotional Support Dog Go

INCLUDES:

Industrial Puppy Emotional Support Dog Leash with Neoprene Handle and Reflective Silk-Screen Print in Red

Industrial Puppy Emotional Support Dog Tag, 2 Pack: Metal Pet ID Tags for Service Animals, Emotional Support Dogs and Therapy Dogs, 1/1.25 Inch Diameter, Double Sided, Navy Lettering and Red Enamel Trim

Leashes come in 3 colors: Red, Black or Pink
Dog Tags come in 2 sizes: Small (1 inch diameter) and Medium (1.25 inch diameter)

Industrial Puppy Service Dog Leash with Neoprene Handle and Reflective EMOTIONAL SUPPORT Lettering is constructed from high-quality, weatherproof materials designed to withstand everyday use and ensure safety for you and your service dog. This durable leash provides a second method of control and identification and makes a perfect accessory for service dog vests or a service dog harness of any style. 

Unlike Ordinary Service Animal Tags, Your Industrial Puppy Pet IDs Offer:
• Stronger, sturdier metal that resists corrosion and breakage
• Lustrous polished finish that catches the light (and the eye)
• Chic, attractive look that stands out in any setting
• Debossed (indented) lettering, resistant to wear and tear
• Rich enamel colors that won't fade or wear away
• Shimmery crimson edging around the outer rim
• Double-sided design – same messaging on both sides

It All Adds Up to Visibility
Everyone will see at a glance that your dog is trained and certified. Perfect for warmer weather, when a hot, heavy vest or harness might be too much for your pooch.
Even the Clasps Are Superior
Each Industrial Puppy pet tag comes with a sturdy "lobster-claw" carabiner, made of super-strong stainless steel for rust-proof durability. Attaches securely and swivels freely (so it won't annoy or irritate your dog).
From a Respected USA Firm that Specializes in Service Dog Supplies